School starts on the 7th and I'm ready to rock n' roll. I'm taking 4 classes: Digital Photography, ASL, Nutrition, and English Comp. English is online and the rest are night classes that meet once a week for about 3 hours each time.
I bought all my supplies and my three hundred dollar textbooks... Yikes! Did I mention I'm borrowing one from my friend saving me another 60 dollars!? It's ridiculous how much they charge us for these things. Oh well, what can I do about it?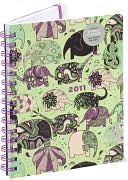 I'm totally excited about my new planner which happens to be covered in, what else?, Elephants. I'll have to post pictures of my entire organizational set up later this week. I went cleaning crazy two days ago and have everything set up for classes to start.
I also bought this super neat iPhone app called iStudiez Pro. It holds all my class, homework and grade information. It has a nifty calendar and calculates my grades for each individual class as well as my overall GPA. I'll let you know how all that actually works but for now it seems pretty cool.
In other news, I didn't get to go to Cape Cod :( BUT I am getting my camera on Tuesday. I'm not getting the T1i anymore, I'm getting the T2i! I figured for the extra hundred bucks it's totally worth it. Not that I have a ton of extra money but I am getting my financial aid return in October and that will be a great help.